The African Communities Council Wellington (ACCW) executive team:
Nureddin Abdurahman – Chairperson
Nureddin is a dedicated and trusted leader.
He is a family man, a community person and an entrepreneur who is running an import-export business. Nureddin is a proud African, unapologetic Muslim and patriotic New Zealander.
His diplomatic personality, ability to influence, strategic and constructive thinking developed over many years through his work in diverse community leadership and NGO sector.
Nureddin who grew up in Africa's diplomatic capital, Addis Ababa, and now resides in the coolest little capital of the world, Wellington, has always been fascinated by the art and craft of diplomacy and International Relations. Since he arrived in New Zealand in 2008 with nothing but hope, education has been his top priority. He has learned quickly how to walk through what he called the dense jungle of new life in the new land. He completed a Bachelor of Development Studies and International Relations, and a Master of International Relations from the Victory University of Wellington.
Nureddin was nominated and elected to the leadership because of his passion and experience in community empowerment. He is confident that ACCW has the potential to be the voice of Africans in Aotearoa.
---
Kosam Nyamdela – Vice Chair
Kosam is a project management professional and business leader. He has taken part in and led several successful large transformation projects and programs in broadcasting engineering, telecommunications and other business forms over more than 30 years. Kosam played a key role in leading technical teams and contractors in the analogue to digital TV broadcasting transformation in New Zealand and Australia. He holds an MBA – Strategic Planning from Heriot Watt University, Scotland and a Masters in Professional Business Analysis from Victoria University of Wellington. In all his years of experience, Kosam has successfully trained, coached and mentored tradespeople, technicians, engineers, project management professionals, students and executives in technical, business and leadership skills. Kosam is past president and CEO of Project Management Institute of New Zealand. He led PMINZ through a change process with award winning initiatives which have been recognised by PMI Global and AuSAE.
Kosam is the founder of his own consultancy – Global Consultants Limited which specialises in empowering businesses and individuals to formulate and realise sustainable goals. Kosam's passion and interest in joining the ACCW executive is to help raise the African community profile and ability perception in New Zealand with the ultimate aim of realising the recognition that all worthy Africans deserve. Kosam believes that if all Africans unite and put aside any real or perceived differences, we can collectively achieve our aspirations and more importantly, those of our offspring by paving a clear path of success for them.
Kosam leads the events sub-committee and is one of the stars of the VIFA radio show.
---
Mandella Lokeng
Mandella has strong links to the Upper Hutt Community, having attended Fraser Crescent School, Brentwood intermediate (which has since closed) and St Pratrick's College in Silverstream. Mandella is a keen sportsperson, who was sports prefect and the school track and field champion at St Patricks's College, which led to involvement with New Zealand track and Field.
Mandella is passionate about his community, he is here to see the African community come together as one. He believe that ACCW is a community for all Africans and so hopes that through his involvement he can help to revive and bring good and true values to our community.
Mandella is involved with the Youth and Sports Sub-committees
---
Sam Manzanza
A versatile multi-entertainer, Mr. Manzanza has been ever-present on the Aotearoa arts and cultural scene, offering the New Zealand public a unique taste of authentic traditional African music for over three decades after relocating from his country of birth, the Democratic Republic of Congo.
He has been credited with popularising traditional and modern African music in New Zealand inspired by rhythms and beats from across the continent. A community man at heart, Mr Manzanza was one of the founding member of the ACCW, Africa Day Wellington, Africa Music Day NZ and the Africa Music Festival Wellington through which he has helped maintain visibility of African culture in New Zealand through the years.
Mr Manzanza has been recognised variously for his meritorious service to the African community primarily through the promotion of African art, music, and culture.
---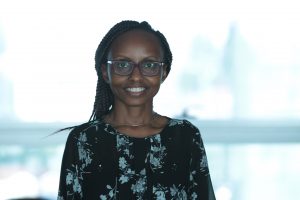 Cynthia Makau
Cynthia Makau is a wife, mother of 2 amazing kiddos and an accountant by profession.
She is an analytical thinker and loves reading books by African writers in her free time. Her all time favourite author is Chimamanda Ngozi Adichie and has read all her books, currently re-reading them
Cynthia was born and bread in Kenya, where she grew up enjoying and experiencing the rich sense of ubuntu. She is keen to ensure that this same experience can be replicated in Aotearoa. She considers herself a global citizen having worked or lived in different countries and experience different cultures including Ethiopia, Tanzania, United Kingdom and Papua New Guinea.
Cynthia embraces ACCW vision and is keen to use her voice to reach to bring together women from different cultures to enhance the connectivity and make a positive contribution in advocating for issues families from diaspora may face in Aotearoa.
Cynthia is the Treasurer and involved with the events and women's sub-committees.
---
Nigussie Geda Fenja
In Ethiopia Nigussie worked as a social worker for three years. He studied Health Psychology in Germany in 2001,after that he worked in an exhibition centre.
Between 2003 to 2006 he worked for World Vision as an advisor around the sponsorship of children, this lead to work involving refugee resettlement from 2003 to 2007. Currently, he works in Community mental health which he has been involve din since 20006. Throughout this whole period Nigussie has been a sports coordinator.
He is currently the Ethiopian Community Chairman in Wellington and on the MCW executive committee. He has been working with refugees and supporting them in with various issues in their daily life for over 12 years. Nigussie is passionate about inclusivity, community, and progress for the ethnic communities of Wellington. He is an effective advocate and organiser and have great negotiation skills. He prides himself on being friendly and approachable and always willing to help the vulnerable and disadvantaged people in our community.
Nigussie is involved with the events sub-committee.
---
Victor Kofi Owusu-Ansah
Victor is originally from Ghana, but currently lives in Wellington after migrating to Aotearoa seven years ago. He is a graduate of Te Harenga Waka Law School, where he completed a Bachelor of Laws (LLB) degree in February 2021. He also completed my professional legal course with the Institute of Professional Legal Studies (IPLS) in August of the same year. He is currently work at the New Zealand Human Rights Commission as a Case Advisor.
Before moving to Aotearoa, he trained in journalism and public relations in Ghana, and worked as a reporter and television broadcaster. He is very passionate about rights advocacy and social justice issues, particularly concerning marginalised minorities and vulnerable groups.
He consider himself a family man and an avid sports fan, spending most of his free time either with his young family or playing indoor football at the waterfront in Wellington.
Victor is the Communications lead and Deputy Secretary.
---
Miyoba Mwipiko
Miyoba is originally from a small town in southern Zambia known as Choma. At the age of 5 her family moved to Botswana, where both of her parents worked as
teachers. In 2003, the family moved to rural New Zealand.
Miyoba completed her studies at Victoria University of Wellington and Massey University, where she completed a BSc in Environmental science and Geography
and a master's in public health. She is passionate about working in the intersections between people, place, and space and how she can use this understanding to improve outcomes for vulnerable populations.
In her spare time Miyoba enjoys bouldering, long distance running and reading. She is excited to help ACCW to foster a strong sense of unity and community.
Miyoba is the secretary and involved with the events sub-committee.